the VESTIGES Project: ENACTMENTS

2013, New Orleans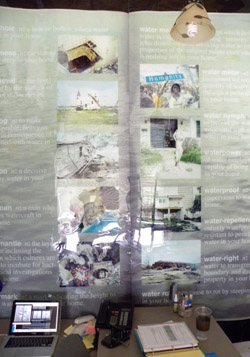 VESTIGES/Enactments 2013 is a series of dialogues, public art projects, publications and events curated by Jan Gilbert, Interim Director of Visual Arts at the Contemporary Arts Center, New Orleans (CAC) in sponsorship by the CAC and in partnership with various organizations and individuals. VESTIGES/Enactments 2013 evolved from the VESTIGES: Think Tank roving residency of the VESTIGES Project at the CAC during 2006-2009.
October 2012 - January 2015, 441 Gravier St, New Orleans
"VESTIGES/trinitas"
On extended display through January 2015 as part of US/IS (Urban Sidewalk Installation Space), VESTIGES/trinitas brings together displaced New Orleans artists with members of their former community in a large-scale, wetlands-inspired wall installation assembled as the result of an international call for submissions initiated and configured by artist Jan Gilbert and Debra Howell of The VESTIGES Project of New Orleans. The creators and contributing artists embrace the slow fading effect they expect sunlight exposure at the site will have on their work, which is about coming to terms with what's been lost on a personal and regional scale, possibly forever.
January 10, 2013, in the Contemporary Arts Center, New Orleans
Migration + Health + Art: A Dialogue
This opening public dialogue featured cultural psychiatrist/anthropologist, Jacques Arpin, M.D./Ph.D. Dr. Arpin presents an overview of his work pioneering cultural psychiatry in Geneva and the role the arts and artist collaborations play in his practice. A moderated discussion included other invited guests as well as attendees.
February 1, 2013, at 511 Royal Street, French Quarter, New Orleans
Touch in Real Time
The Touch in Real Time project is part of a series of events across the country planned in conjunction with Kate Lydon, the curator of the Society of Contemporary Craft in Pittsburgh, PA. The project is based on shaking hands with as many people as possible. Each handshake contains a wet piece of clay, imprinting each participant's hand with that of the artist Holly Hanessian. She holds onto their hands for 6 seconds, the time it takes for the bonding hormone, oxytocin to be released into our bodies. The project culminates in an installation during the fall of 2013 at the Society for Contemporary Craft in Philadelphia.
March 3, 2013, in the Contemporary Arts Center and Ashe' Cultural Arts Center
New Orleans Performance in Action: Creating in the Crosswinds
"New Orleans after the Flood", TDR Publication Party and Dialogue
Instigators and guest editors of a special issue of TDR, Jan Gilbert and Kevin McCaffrey, edited a collection of articles, interviews, and photographs representing post-Katrina New Orleans where creative artists took responsibility for remembering the disaster and re-visioning the city. It is a collective, intimate glimpse into the still emerging effort to think through the past and envision the future of art and performance in New Orleans. Here, they were joined by contributing writers Carol Bebelle, Anne-Liese Juge Fox, and Catherine Michna along with many of the artists written about for their ongoing work in New Orleans including artists of: ArtSpot Productions, Ashe´ Cultural Arts Center, Junebug Productions, Mondo Bizarro, and New Noise.
July 6, 2013 – September 22, 2013
Contemporary Arts Center, New Orleans
Tank Drama: Deliberations from The Wet Grave
Artists working in a multiplicity of art forms — theater, writing, visual art, film, music, dance — are brought together under the umbrella of The VESTIGES Project in Tank Drama to present their work in the CAC Lupin Foundation Gallery, along with scheduled events in its Spun Cafe, Freeport-McMoRan Theater, and additional off-site venues. This potent representation of creative, collaborative networks documenting, remembering, and re-visioning post-Katrina New Orleans provides a glimpse into the collective, ongoing effort to think through the past and envision the future of New Orleans. This collection is posed as an exemplar for engaging in a wider global dialogue.